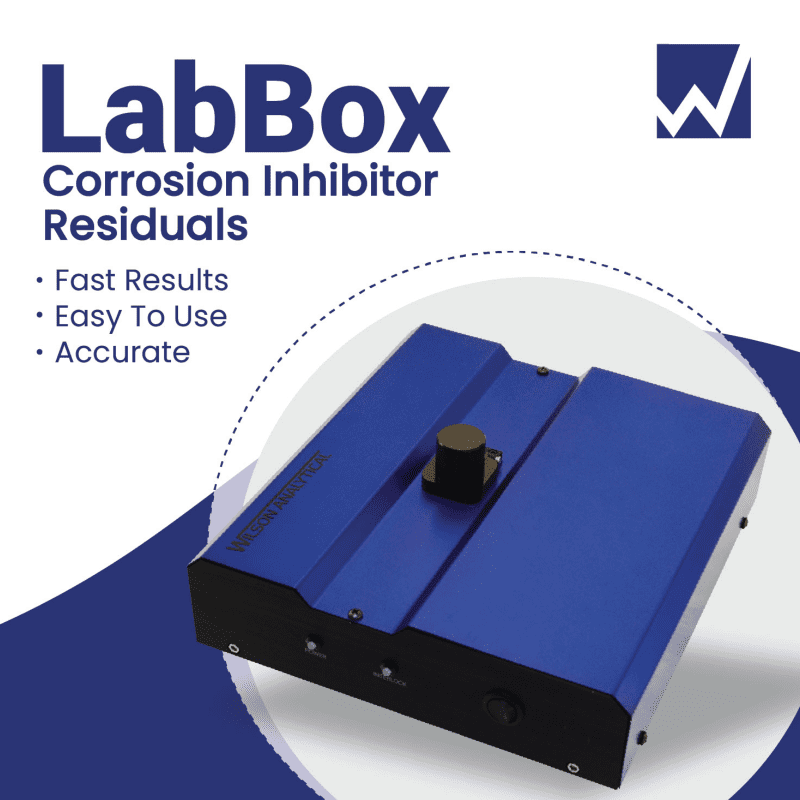 LabBox
Would you like to have more time available in your work day?
LabBox is more accurate & precise than chloroform extraction. And it's 10X faster, dropping sample analysis time from over 30 minutes to just a few minutes.
Our 3-month trial rental includes the training and support your lab needs to get started, and 70% of your rental cost applies toward your final purchase, because  90% of labs purchase after the LabBox trial.
Book a consultation with an expert to assess if LabBox fits your process. 
Request Quote
LabBox Resources
Features

LabBox uses fluorescence to measure quaternary alkyl pyridinium (APQ) salts concentrations in corrosion inhibitor residuals in oilfield waters.

High accuracy and precision
Sensitive, with detection limit as low as 1 ppm in 5 seconds of measurement
Fast and easy sample preparation, just filter and dilute. No toxic solvents
LEDs and interlocks for system safety and status information indicators
Integrated USB spectrometer and cuvette holder with a spill-recovery drain system
Optically stabilized, long life, high-intensity 365 nm (UV)LED light source
Free software license for life. Wilson Analytical LightPilot software for fluorescence quantitation
Applications

Quaternary alkyl pyridinium (APQ) salts used in corrosion inhibitors
will excite in the UV and emit in the visible range. Wilson's
instrumentation can be used to identify the presence and concentration of these intrinsically fluorescent corrosion inhibitors with a 1 ppm
detection limit. The only sample preparation necessary is filtration and dilution. Fluorescence in regards to corrosion inhibitor detection provides the high accuracy of HPLC testing and better reproducibility
than the chloroform extraction method.

For more information refer to Corrosion Inhibitor Residual Measurements and Wilson Analytical CI Determination Procedure.

APQ-containing corrosion inhibitors could be quantified using ultraviolet-excitation fluorescence. Engenium Chemicals (Calgary, AB)
has recently developed an intrinsically-fluorescent imidazoline corrosion inhibitor, which when formulated into a corrosion inhibitor
package provides for fluorescent detection (with UV excitation) with similar detection limits to APQ formulations. LabBox can thus be used to identify the presence and concentration of these imidazoline-based
corrosion inhibitors.
Software

LightPilot is our own software, included with the LabBox spectrometer system. It has three modes of operation that are demonstrated in the
playlist:


Control Mode for creating & modifying calibration curves


Aquisition Mode for measuring samples


Review Mode to display, review, and print data
Rental & Warranty

LabBox Rental Program

Minimum 3-month commitment

Cost: $1000 USD/mo in the rental program

70% of your rental costs will go toward purchase

Includes four hours of virtual training - booked online to be mutually convenient

Ongoing, next-business day support during the 3-month rental period

Wilson Analytical covers the cost of shipping the LabBox to your
requested location. The customer is responsible for any return shipping
charges.

However, 90% of previous clients on the rental program have purchased.

Book a consultation today to get more information.

LabBox Warranty

Wilson Analytical warranties its instruments to be free of defects
due to manufacturing or workmanship for twelve months from the date of
shipping. The warranty covers normal usage, but not damage due to things
like dropping the instrument or immersing it in water. The warranty is
also invalidated if the user attempts internal repairs of any kind.

An extended warranty is available with purchase of any Wilson instrument.