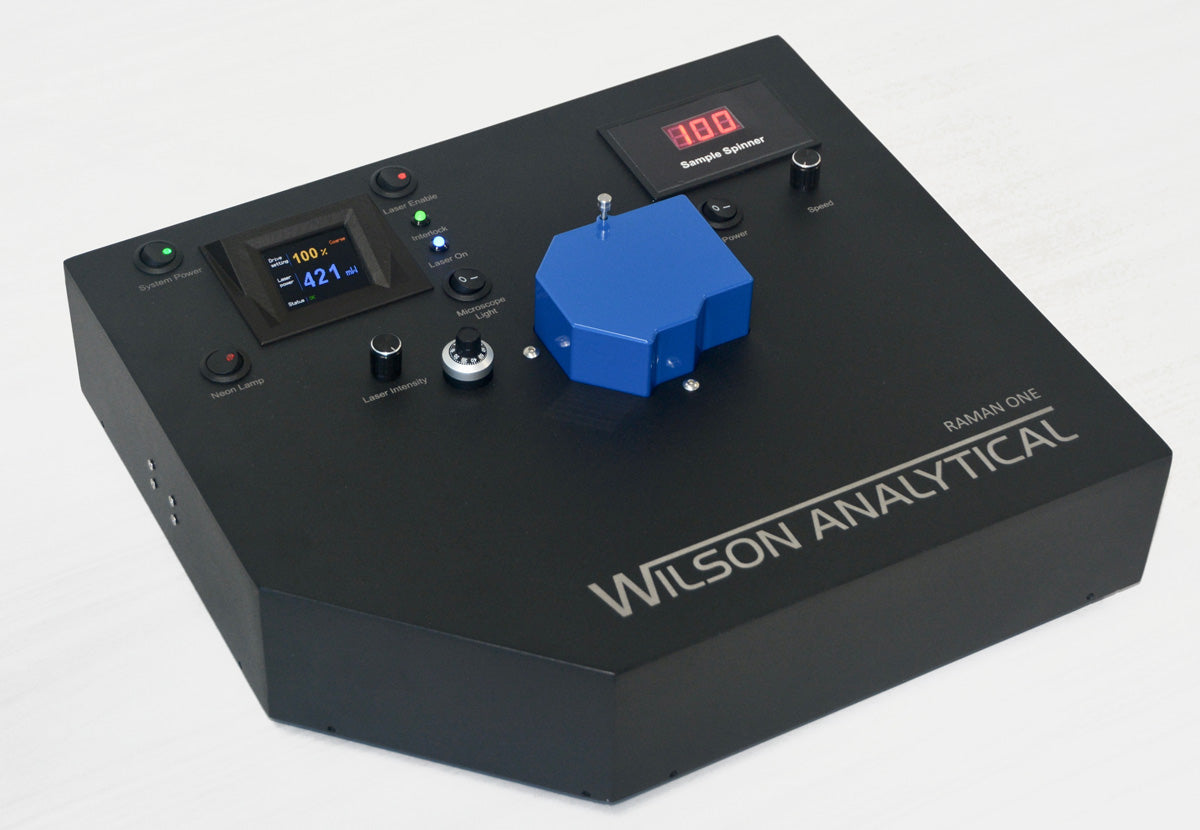 Raman One
The Raman One is a uniquely designed Raman spectrometer that provides
laboratory quality analytical data. The system is built with the rugged
high-quality construction you expect from Wilson and features a variety
of sampling accessories that makes using it super easy.
Choose your sample holder based on your sample type: liquids, pellets, powders, capillary tubes, or solid sample spinner.
Request a Quote
Raman One Resources
Features

Anodized or powder - coated aluminum external surfaces to resist spills and damage

Class 1 laser enclosure with a double magnetic interlocked lid that turns the laser off when the lid is open
Built-in neon lamp for wavelength calibration
Video microscope (60x magnification) for aligning sample with the laser on
2 MP microscope camera for recording stills and videos of samples
Cylindrical collection lens in the detector for enhanced spectrometer sensitivity
Solid sample versatility – solids can be run as
disks, pressed pellets, microscope slides, powders in capillary tubes,
or spinning pressed rings
Sample spinner (for running coloured or temperature-sensitive solid samples at higher laser powers without burning the sample)
IPS 785 nm laser with 20 - 435 mW power (other laser wavelengths are available)
Ibsen Freedom mini-Raman FCT-101 spectrometer
with a 475 – 1100 nm wavelength range, 0.6 nm resolution, and a
Hamamatsu S11639-01 detector (other spectrometers are available)
What's Included

110V or 220V power supply and power cable
USB connecting cable
Spectragryph Raman software – full spectral manipulation and library searching

Accessories

Capillary/pellet holder
Cuvette holder
Solid sample spinner
Solid sample spinners (front) and pressing die (rear) for loading samples
Documents
Demonstration Videos
Warranty

Wilson Analytical warranties its instruments to be free of defects
due to manufacturing or workmanship for twelve months from the date of
shipping. The warranty covers normal usage, but not damage due to things
like dropping the instrument or immersing it in water. The warranty is
also invalidated if the user attempts internal repairs of any kind.

An extended warranty is available with purchase of any Wilson instrument.